1.

Menemen

This traditional Turkish breakfast item is scrambled eggs cooked in sautéed vegetables and served hot with bread. Dip it, spread it, or spoon it up.
2.

Köfte A Turkish staple, köfte is balls or patties of ground beef or lamb, and can be served stewed, in sandwiches, over salads, or plain with yogurt.
3.

Mantı

Mantı might remind you of ravioli at first sight, but the traditional Turkish dish is completely unique in taste and texture. Small beef or lamb dumplings are boiled or fried and served with yogurt or butter, and often accompanied with a range of spices.
4.

Kuzu Tandır

The meat for this popular lamb dish is traditionally hung and slow roasted whole, and it often served with rice or potatoes, and yogurt.
5.

Lahmacun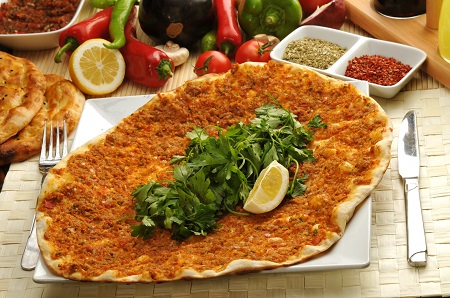 This flat and crispy bread is traditionally topped with minced meat, salad, and lemon juice (thought the above is a beetroot vegan option!), and can be wrapped, folded in half, or pulled apart to eat.
Cheap and available on any street corner, it's the perfect light lunch or snack while touring.
6.

Börek Turkish savoury pastry comes in many varieties, most popularly filled with minced meat or spinach and cheese. Börek can be rolled, served as puffs, or layered like lasagna, and served for breakfast, lunch, dinner, or snack. Anyway you have it, börek is always flaky and delicious.
7.

Baklava

Nutty, syrupy, pastry dessert is never better than when served in Turkey. Often topped in ground pistachios, baklava is sweet and unique, and should be eaten fresh!
8.

Pide

Often called "Turkish Pizza," Pide is a boat-shaped flatbread served with a variety of toppings, often minced meat or spinach and cheese.
9.

Güllaç
A traditional dessert most often served during Ramadan, güllaç is a uniquely textured treat made from dough, milk, rosewater, nuts, and pomegranate seeds. You might find other fruit or chickpeas in some variations.
10.

Meze
It's common to have meze, or a range of cold appetisers, with drinks or in place of a full meal. Dinner guests are provided with around 20 choices, bean dishes, salads, and spreads on small dishes to eat with bread.
11.

Dolma

Dolma is often used to refer to stuffed vine leaves, but encompasses any stuffed vegetable. Vine leaves are popular in Turkey, but so are stuffed peppers, courgettes, and aubergine.
12.

Lokum
Lokum, or Turkish Delight, is a nougaty dessert served with a variety of flavours and fillings and often topped with powdered sugar. It's always best fresh, as pre-packaged versions tend to go too light on the fillings and too heavy on the sugar, drying it out.
13.

Şiş Kebap Meat on a stick originated in Turkey, wouldn't you know? Sis Kebab is typically lamb, chicken or fish served on a wooden or metal rod, often with bread. Dip it in yogurt or eat it on its own; it's always tender, savoury, and delicious.
14.

Pilav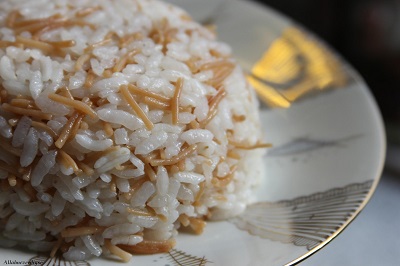 Turkish rice is simply put, delicious. Buttery and toasted, it can be the tastiest thing on your plate, and that's not a bad thing. Don't miss out on smothering your rice in yogurt – it's actually amazing.
15.

Kayısı Tatlısı

Tasty morsels of apricot stuffed with cream and nuts is a signature Turkish dessert that will blow your mind.
16.

Baklalı Enginar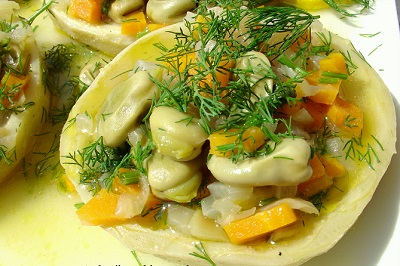 Peeled artichokes dressed in oil and lemon juice and served cold with beans and fresh parsley, this dish is fresh, light, and a perfect summer meal.
17.

Su Böreği

This variation of börek is a strange and amazing cross between lasagna and pastry.Su böreği (or water börek) is made from dough softened and cooked in milk and eggs. Stuffed with cheese and spinach, it's a moist and filling snack.
18.

Mozaik Pasta
Chocolate cake made with chocolate sauce and broken biscuits is artful to look at and and delicious to eat. Available in almost any cafe, mozaik cake is also a go-to for Turkish mums, most of whom can whip up a no-bake version in no time.
19.

Mercimek Köftesi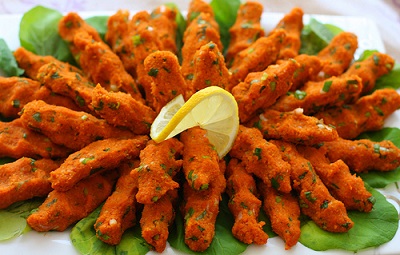 These vegetarian meat balls made from lentils, bulgur, and chopped vegetables are a common Turkish appetiser.
20.

Döner Döner is a typical slow cooked meat sandwich, made with chicken, lamb, or beef and served with vegetables, spices, and garlic yogurt. Döner is usually available from takeaways, but don't be fooled, it's exponentially tastier than McDonalds.
21.

İmam Bayıldı

This stuffed aubergine entree is delicious, hearty, and versatile. Aubergines can be filled with rice, bulgur, mince, and/or other veg and smothered in oil and butter before being baked or cooked on the stovetop.
22.

İskender Kebab
A popular order at any kebab house, iskender kebab is long strips of lamb cooked in tomato sauce and served over rice and pita bread with yogurt.
23.

Künefe
This unique Turkish dessert, made from cheese baked with shredded pastry dough and topped with pistachio, is a common treat for nights out as it's difficult to make at home.
24.

Dürüm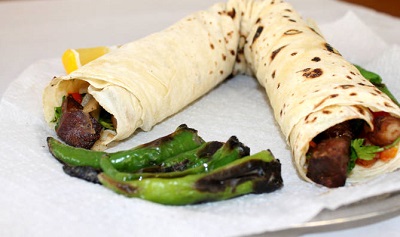 25.

Balık Ekmek
A Turkish fish sandwich is best enjoyed along the water – whether you're enjoying the seaside of Bodrum or taking a lounge by Istanbul's Bosphorus, it's common to see floating fish restaurants docked to the shore, and you mustn't miss the opportunity to be served on one of those!